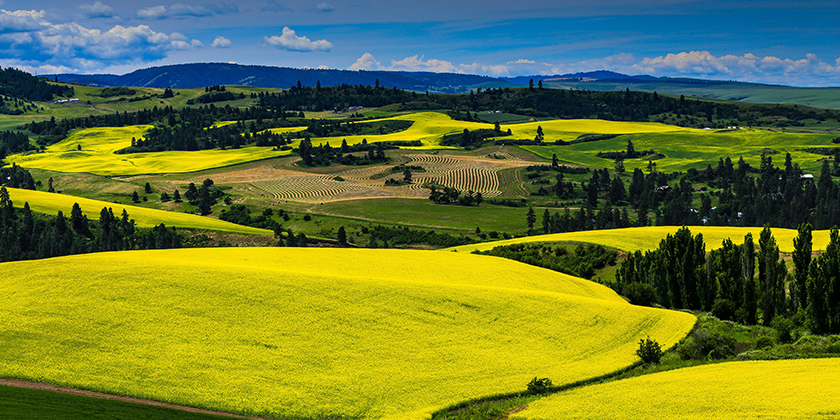 It's easy to forget that a house in the suburbs is not the only option a first-time homebuyer has with a VA home loan. There are plenty of options available and the Department of Veterans Affairs has anticipated many of them when it comes to purchasing property and choosing options.
For example, did you know the VA will approve home loans for qualified borrowers who want a custom-built home? A construction loan has rules and procedures specific to the issues related to having a new home built from scratch as opposed to an existing home.
The VA Lender's Handbook has several things to say regarding the use of the VA loan benefit for land purchases. According to Chapter Three of the handbook, "eligible purposes" for a VA home loan include the ability to "purchase or construct a residence, including a condominium or cooperative unit, to be owned and occupied by the veteran as a home." The rules include some stipulations concerning what can be purchased:
The loan may include simultaneous purchase of the land on which the residence is situated or will be situated;
Loans may also be guaranteed for the construction of a residence on land already owned by the veteran (a portion of the loan may be used to refinance a purchase money mortgage or sales contract for the purchase of the land, subject to reasonable value requirements).
The VA will not allow the purchase of unimproved land with the intent to improve it at some future date, meaning the land purchase is not in conjunction with a construction loan.
Some borrowers already own land and don't want to purchase more. VA rules state, "Loans may also be guaranteed for the construction of a residence on land already owned by the veteran (a portion of the loan may be used to refinance a purchase money mortgage or sales contract for the purchase of the land, subject to reasonable value requirements)."
One key obstacle you should keep in mind is the general hesitancy of lenders to issue VA loans for new construction. Since the VA loan program is voluntary and the lenders who take part are participating lenders, the VA cannot require these lenders to offer certain types of loan products. You may ultimately need to seek construction financing from a home builder or a community lender and look to refinance the construction loan into a permanent VA-backed mortgage.
When applying for a VA loan, ask your lender what the rules and restrictions are for purchase loans for new construction in your area.
VA Land Loans Frequently Asked Questions
Can you buy land with a VA Loan?
Veterans can use the VA home loan to buy a home and land together, but not land alone. The VA home loan is just that—a home loan. This means the VA will only guarantee land that is acquired along with a move-in ready home, or at least plans for immediate construction from a VA approved builder and will require final inspection once complete. If looking to purchase land alone, then private financing must be used first until the property is built.
If you own the land outright, or still shopping for the lot you wish to build on, you can use the VA home loan to have both land and home deeded and financed into a true VA mortgage. Instead of the "traditional" VA purchase transaction and mortgage path, you instead take steps to have the home built to completion first. Then, bring your VA loan to have the entire home and land appraised together as one VA guaranteed property. The VA calls this a "construction to permanent" refinance.
Your VA home loan will refinance, or payoff, existing loan(s) used to purchase the land and construction of your home and convert them into a fully guaranteed VA mortgage based on the term you choose with your lender. The VA Lender's Handbook defines land without a residence as "unimproved" land. "Unimproved" lots are ineligible for financing with the VA home loan.
As noted above, the VA home loan guarantee can only exist when a home is involved. That property, existing or planned, must be built and appraised to ensure all VA minimum property requirements are met.
Do you have to put money down if you're buying land with a VA loan?
No, the VA home loan does not require a down payment if using to purchase a to-be-built home or if you are using your VA home loan to pay off and turn your land and newly built house into one complete lot, versus the land and property separately.
What are the current interest rates on VA land loans?
Current interest rates change daily based on stock market activity and then set and offered by lenders. This question can only be answered by contacting a loan officer today employed by a licensed lender.
Okay, what are the options for using my VA home loan to get some land?
You can use your VA home loan in the following ways:
New Build Purchase from VA Approved Builder: Construction companies purchase divisions of land at a time. You'll customize your construction plan with them directly and choose your land from their available lots. Apply for your VA home loan to finance the purchase from the builder with a VA lender.
New Build on Land that is owned, gifted, or financed: A construction loan must be applied for with a local lender or VA approved builder offering in-house financing. After the house is 100% complete, apply for your VA home loan to payoff the construction loan and refinance the property into a VA guaranteed mortgage.
Learn more about purchasing new construction with VA-approved builders.
How much land can you buy with a VA loan?
The VA doesn't limit the number of acres you can buy, but the size of the property can lead to impacts on the VA appraisal and the appraiser's ability to find good recent comparable home sales.
Can you use a VA loan to purchase a farm?
The VA will guarantee farm residences to be purchased with the VA home loan so long as it will be the veteran's full-time home. Note that the house and farmland will be appraised for residential use only, not commercial. Alternate financing must be in place when purchasing a farm for commercial business.
What is the Veterans Land Board (VLB) Veterans Land Loan Program (Texas Program)?
The VLB is an exclusive state program for Texas veterans established in 1946. The Texas Veterans Land Board does offer "land loans", but this is not the same as the VA home loan product. The board controls the set interest rates for their own Texas Veteran Loans, so you must work directly with them for this specialized financing. Interest rates for the true VA loan are set by the approved lender offering the financing.